It is December 30, and I doubt I will finish another book before 2014 so I figured I would bite the bullet and post my Best Books of 2013 list. These books are listed in no particular order. I ended up reading 177 books this year, which far surpassed my goal of 100 books. I'm pretty proud of that. It has also been a very, very good year for books in the genre. Lots of exciting new authors to watch, and lots of my favorite authors released some really good books that got me all sorts of excited. Here is my list of the books that really made me curl my toes with glee and made my heart skip a few beats while I read them. All titles link to my reviews.
Also, full disclosure, this is totally unedited and when I say the books are in no particular order, they really aren't. I didn't want to spend an hour trying to figure out how to numerically order these things, so I just slapped them on here as I thought of them.
Enjoy!
—
Necessary Evil – Ian Tregillis
Really, this book floored me. Such an incredible end to a trilogy that absolutely blew me away. Necessary Evil is dark, emotional, and an amazing mental exercise. This is the book that really, in my mind, turned Tregillis from a great author to an absolutely amazing one that will set trends and move the genre in unexpected ways. Necessary Evil isn't a shy book. It will gut punch you, and the dark tone might be too much for some readers, but it did it stopped my heart, made everything click into place, and made me say, "This author is a goddamned genius" more than I ever have while reading a book before.
—
Love Minus Eighty – Will McIntosh
This was my first real foray into social SciFi, and I'm kind of pissed that it is because I seriously doubt any other social SciFi book will ever measure up to the amazing bar this one reached. Love Minus Eighty floored me. It left me gaping. I read it months ago, and I still can't get it out of my head. In fact, it is so in my head that I have it on hold at the library so I can re-read it again. I just want to experience it over and over again. I blabbered on about it on the SF Signal podcast a bit, but the truth is, I'm so astounded by how much I loved this book I don't even really know what to say about it. McIntosh is such a smart writer. He knows what tools to use to manipulate his readers perfectly. He demolishes the idea of love and then rebuilds it brick by brick, all the while playing with core ideas like social media, virtual reality, social class, family dynamics and so much more. McIntosh's future is well realized and incredibly believable. His story is absolutely compelling both intellectually and emotionally. This book is a work of art that everyone should read right away.
—
I have a hard time with horror. Meaning, I usually find horror books predictable and rather pedestrian. They rarely ever do anything for me. However, The Passage did what it was meant to do. This is probably the first horror book I've ever read that really horrified me. I usually read before I fall asleep at night, and this was the book that proved what a dumb exercise that it. I would dream about it. I cared about the characters so much I couldn't sleep. I was worried about germs and diseases for weeks after I finished it. I moved on to the second book in the series minutes after I finished the first, which is rare because I usually break up a series by a few weeks between books. The Passage is mental, and realistic in many ways. Cronin makes readers care about the characters and their plights. It is fascinating to see how things changed so quickly and the reasons why. Human nature was depicted very well in many of these haunting situations. This is a book that set out to do what it was meant to do. I was left gasping for air, horrified, and very thoughtful about many things. The Passage isn't your grandma's horror novel. This is something new, something with poise and flair and I devoured it.
—
Two Serpents Rise – Max Gladstone
You know, the first novel in this series was impressive, but I kind of forgot about it after a time. The second novel really blew me away. Gladstone's world is elaborate and detailed. His writing fills in the emotional and personal developments for characters perfectly. The plot moved at a fantastic pace, but really, what sets this book apart from almost anything else I've read this year is the details. Gladstone hasn't just created an incredible, well-realized world, but he's filled it with so many small details that it comes vibrantly alive for readers. Two Serpents Rise is a massive accomplishment, but striking such a perfect balance between plot, characters, and world development is hard and rare. Gladstone managed it. Fascinating book, absolutely fantastic writing, and a world I want to live in. Amazing job, Max Gladstone!
—
The Bottom of the Sea – Zachary Jernigan
Oddly enough, I'm finding myself putting this short story collection on the list of best books, despite the fact that I generally don't enjoy short story collections. The reason why this one is getting put on my list is because it really shows off Jernigan's talent for diverse, but incredibly powerful writing. Jernigan is one of those authors that is new, and entering the genre with a punch. I'm watching him carefully, because he's a power player in SFF. It really shows in his short story collection. The Bottom of the Sea is a collection of unrelated stories, but all of them are intensely powerful and very moving. His masterful writing drops just the right amount of world and character building as he advances the plot, but it really is the underlying, almost understated emotions in each of his stories that got me the most. Jernigan really isn't just relating some odd happenstance to readers. He's toying with your thoughts, pushing your mental boundaries, and triggering your emotions in ways you probably don't expect. His stories really rocked me to the depths of my soul and made me think about a lot of things, very profound things, differently. That's what Jernigan does best. He isn't just a writer, but he makes you think, and his artistic style is just a bonus.
—
This book has been on almost every year-end list that I've read so far and there is good reason for that. Schwab managed to write one of the darkest, most believable superhero books I've ever read. I don't like superheroes, either, but Schwab makes it real, and that's why it works so well. Her characters are twisted and dark, and their actions are done for selfish reasons (often, but not always). They are more human than human, and if superheroes really did exist, this is how I'd mentally picture them. Schwab's story is rather deep, and it really made me think about human nature and what motivates our actions more than I expected. Furthermore, it is a compelling story on all counts, and Schwab never really wastes any words. Everything counts. She brings the story to life slowly, and unravels all the reasons behind various plot points carefully and delicately. Her style is superb and her story is absolutely captivating and powerful. She revitalizes a trope that never really worked for me, and did it in such a way that her book ended up being one of my favorite books this year.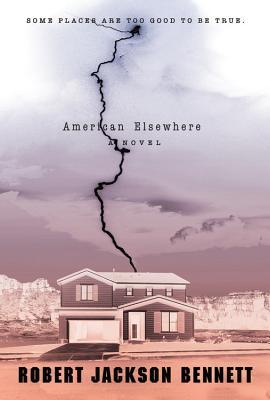 —
American Elsewhere – Robert Jackson Bennett
This book put Bennett in one of my interesting mental lists that is only populated by one other author: Neil Gaiman. I don't even know what this list is called. Maybe it is my Neil Gaiman list. That sounds about right, but the point of it is rather weird because the only reason these two authors are in it is because both of them have this knack for twisting stories, cultural tropes, common beliefs, and making them magical, twisted, and dark. Bennett really shows flair with American Elsewhere, turning a sleepy town in New Mexico into a place I can envision, and feel like I've visited before. He brings his characters to life and makes them believable in the fact that everyone has secrets. Things unravel slowly, and as is Bennett's style, by the time you understand what is going on, you are no where you expected you'd end up being. American Elsewhere is a fascinating book that really explores people in every sense of the word, and Bennett's stellar writing makes it more real than real. I was truly invested in this novel. What is even more amazing is that every book Bennett writes is better than his last. The man has already won awards. I don't know where he plans on going next, but the sky is the limit. Every book of his is like opening a gift. I might not end up where I expected to be, but getting where I'm going is one hell of an adventure.
—
Alif the Unseen – G. Willow Wilson
I didn't really expect to like this book, but I ended up loving it. Part of the reason I enjoyed it so much is because I so enjoy learning about other cultures, and this book takes place in a rather closed off anonymous country in the Middle East. It felt real, and I often found myself wondering if much of what Wilson describes happening in her novel actually happens in some of these places we in the West know so little about. Also, it's just well done, an interesting if compelling blend of fantasy and reality that makes the implausible feel so damn plausible. Wilson's descriptive writing makes everything feel very real, and the characters were easy to care about. Though I don't consider it a perfect novel, I ended up giving it five stars and liberally recommend it because it is so easy to believe, so easy to visualize, and so easy to feel like you are part of it. Wilson did a great thing here, and I truly hope that more people read this novel. The plot is interesting, and the emotions are deep and enticing, and the culture is very vibrant and real. Great job all around.
—
Emperor of Thorns – Mark Lawrence
I ended up not-a-reviewing this book because I don't know how the hell to review something that was this amazing. I still don't. Sitting here, writing this post, I'm absolutely baffled as to how I can adequately tell readers why is was so amazing. Lawrence is just… he's just Mark Lawrence. He's in a class all his own. He finished off his powerful, dark, emotionally captivating series perfectly in every sense of the word. Lawrence stayed true to the development of Jorg to the end, and while I wouldn't ever really want to know someone like him in real life, the fact that Lawrence was unafraid to explore the darker motives behind the actions of his characters is nothing short of admirable. Mark Lawrence isn't afraid to make his readers uncomfortable, and I love him for that. Emperor of Thorns…. I honestly am speechless. Just read this book. No, read the series. Stop what you are doing, and just get it done. Mark Lawrence is amazing and this series is one of the best things I have ever read in my life.
—
Ancillary Justice – Ann Leckie
Really, all you need to know about this book is how I summed up my review of it:
I LOVED THIS BOOK. LOOOOOOOOOOOOVED IT. LOVE. BLISSFUL RAPTUROUS LOVE. LOVE LOVE LOVE. I WANT TO MARRY THIS BOOK.
So go read it. I am just as baffled with how to say why this book is wonderful as I was with Emperor of Thorns. Some books are too good to be summed up in a paragraph.
—
If you want to read a book with some intense atmosphere, then you'll probably want to pick up NOS4A2, because it is the atmosphere that makes this book work as well as it does. The story is concise, no wasted words or descriptions, and due to that it is vibrant and absolutely chilling. The characters are flawed and due to their flaws, so very real. The story is a new and unique twist on some old tried and true tropes, but Hill does a great job at making them his own and really owns them. Not only is this a creepy story, but it is so engrossing that you can't help but finish it despite how creepy you might find it at times. NOS4A2 is amazing for so many reasons, but it is the atmosphere that really makes it shine. NOS4A2 is one of those books that gets under your skin and comes alive. Very good book by a powerhouse author. I can't wait to see what he comes up with next.
—
This book hasn't received the attention it deserves. This is a young adult book with very, very little speculative fiction in it, if any at all. However, the book itself is absolutely riveting. Boy Nobody tells the story of an anonymous young man who has been trained to be an assassin, and Zadoff really, really makes it real. In fact, most of the book is spent with the reader not knowing the protagonist's name. He truly is anonymous, moving from one city to the next, contacting his "mother" and "father" though you never really see them as he gets his mission orders. If you are interested in the plight of the child soldier, and you want to think about some other deep things as well (like identity, independence, etc.) then you really need to pick this book up. It is young adult, but it was one of the most moving, thought provoking, deep, engrossing novels I've read all year.
—
The Golem and the Jinni – Helen Wecker
I haven't reviewed this one, because it's another one of those books that leaves me speechless. How can you possibly talk about something that you loved this much? While it's not perfect (there were some pacing issues) this is one of those books that transcends genre and tells a heart wrenching tale of love, cultural clashes, prejudice all wrapped up in the immigrant tale from the early 1900's in New York City. I don't know how Wecker did it, but this is her first novel and it absolutely left me gaping. One novel, nicely compact, with a perfect ending that wrapped everything up nicely. However, the characters really did it for me. Each of them has strengths and weaknesses, their relationship unfolded naturally against an absolutely captivating backdrop. The cultures were beautiful, the language and verbage was nothing short of artistic. Wecker swept me up in a tide of glorious and left me wanting more. I cannot wait to see what she writes next. If this is any indication, Wecker has one amazing career on her hands. She'll make waves in the genre.
—
Chuck Wendig
"Hey Sarah, I don't know if you are stupid or what, but Chuck Wendig is an author, not a book."
Yeah, I know. I'm breaking my rules and putting an author up here because I discovered his books this year, and every one of them I've read has made me wonder how much talent can possibly be packed into one body. Wendig is a phenomenal author and the world is better having his books in it. Go pick one up. You'll be in for the ride of your life. Excellent writing, emotionally jarring, deliciously uncomfortable, thought provoking books spring from this man. He's one of my best author discoveries I've made all year.
—
God's War – Kameron Hurley 
I read this book, and went on Twitter and said, "Anyone who says women can't write gritty SFF hasn't ready anything by Kameron Hurley" (or something along those lines. The internet exploded in response, because it is true. Gritty, dirty, realitic, jarring SciFi comes from the mind of this genius author. Her writing is fluid and somewhat raw, her world is rough around the edges, the plot is complex, violent, and gets the reader just as dirty as it gets the characters. The protagonist is a strong female in a hard spot that works hard for what she accomplishes. The plot moves fast, and there are plenty of unexpected twists and turns to keep anyone occupied. Kameron Hurley is another author that I discovered this year and fell in love with. I can't wait to read more of her writing, and to see what she releases next. She's a smart author, who writes smart books.
—
The Incrementalists – Steven Brust & Skyler White
This is one of those books I have to read a few times to make sure I get what exactly happened. This book is smart, and it makes you think about the nature of reality and free will in different ways. Told from the point of view of two very compelling characters, The Incrementalists establishes this author duo as a group to watch and I really hope they return to this world and give readers more. Smart urban fantasy done right. It has just the right amount of story, and just the right amount of depth to give readers something to savor and think about long after it is over. The Incrementalists is a hell of a fun book, set in Las Vegas, with a nice plot line that readers will doubtless enjoy. The twists and turns kept me guessing, and the deeper ideas and themes left me thinking long after it was finished. These two authors struck a perfect balance in every sense of the word, and managed to write one of those books that can be enjoyed time after time, because you'll learn something new from it time after time.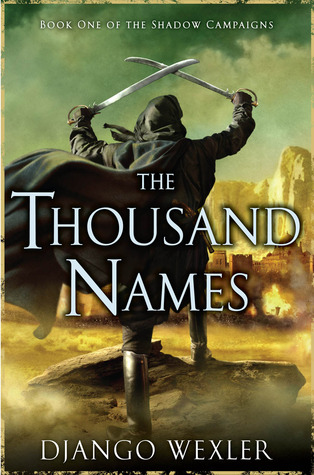 —
The Thousand Names – Django Wexler
I have some sort of admiration for epic fantasy authors. It takes one hell of a mind to write this stuff, and I don't think I'm smart enough to be one of them. So when there's a brand new author, and their first book is a doorstopping epic, I tend to take notice. When that epic is enjoyable, and engrossing, I really notice. Wexler pulled off an engrossing, unique epic with finesse and flair. The Thousand Names has plenty of cultures, clashes, battles, characters to care about and love, or hate. Very realistic, very well rounded developments for everything, and a plot that develops at a nice clip and doesn't leave you hanging long. The Thousand Names hit all the right notes and made me love epic fantasy again (I've been rather exhausted with it this year). Great job, Wexler. You've really made a name for yourself and caught the attention of a lot of genre fans.
—
Michael J. Sullivan
Okay, so I'm breaking my rule twice, but I really love Sullivan's writing and his books always seem to scratch my itch perfectly. I love his characters, his plots, the easy flow of events. Everything about him is wonderful. His books have been huge hits with everyone who reads them, and there's a reason for that. Sullivan is just a solid author. You know that his books will be worth the time it took to read them, because they are always good. Furthermore, Sullivan is a success story that so many authors aspire to. He's a hell of a guy, a magnificent author, and I'm beyond thrilled that I'm one of the people who gets to read his books. Pay attention to this one. He is one of the best.
—
Wisp of a Thing – Alex Bledsoe
Admittedly, this is one of my favorite series right now. Every time a book shows up in the mail, I feel like I just got a bunch of candy. Bledsoe really brings the countryside to life and makes it feel so magical to me. A perfect blend of culture, heritage and lore work well with his lyrical, almost musical writing to make this book something absolutely unique. You don't devour these books, you savor them, because they are art. Pure and simple. Wisp of a Thing knocked me on my feet. I've read it twice this year, and I loved it each time. Bledsoe is an excellent author, and he makes the world feel so magical to me. That's a true gift. This is a series I hope never ends because it's so damn good. If Wisp of a Thing was any clue, the next book should knock me on my ass. Bravo, Bledsoe. You've created a real masterwork here.
—
Heroes Die – Matthew Stover
Gritty, gory, full of violence and bloodshed but also balanced with characters you can't help but love and a very complex story with set in a well-realized future. Stover's writing is engrossing and his plot is captivating. I have no idea why I waited so long to read this novel, but it's actually quite ridiculous that I did because now all I want to do is re-read it. This book got my blood pumping and my heart racing and made me wonder what was next. Full of delicious plot twists and some nice sexual content and violence, this isn't a book for your grandma to read, but it is damn good when you want something to challenge you, and make you care far more than you thought you could. Stover is a writer that holds nothing back, and I ended up loving this book more than I thought I would.
—
So there are my favorite books of 2013. What are yours?